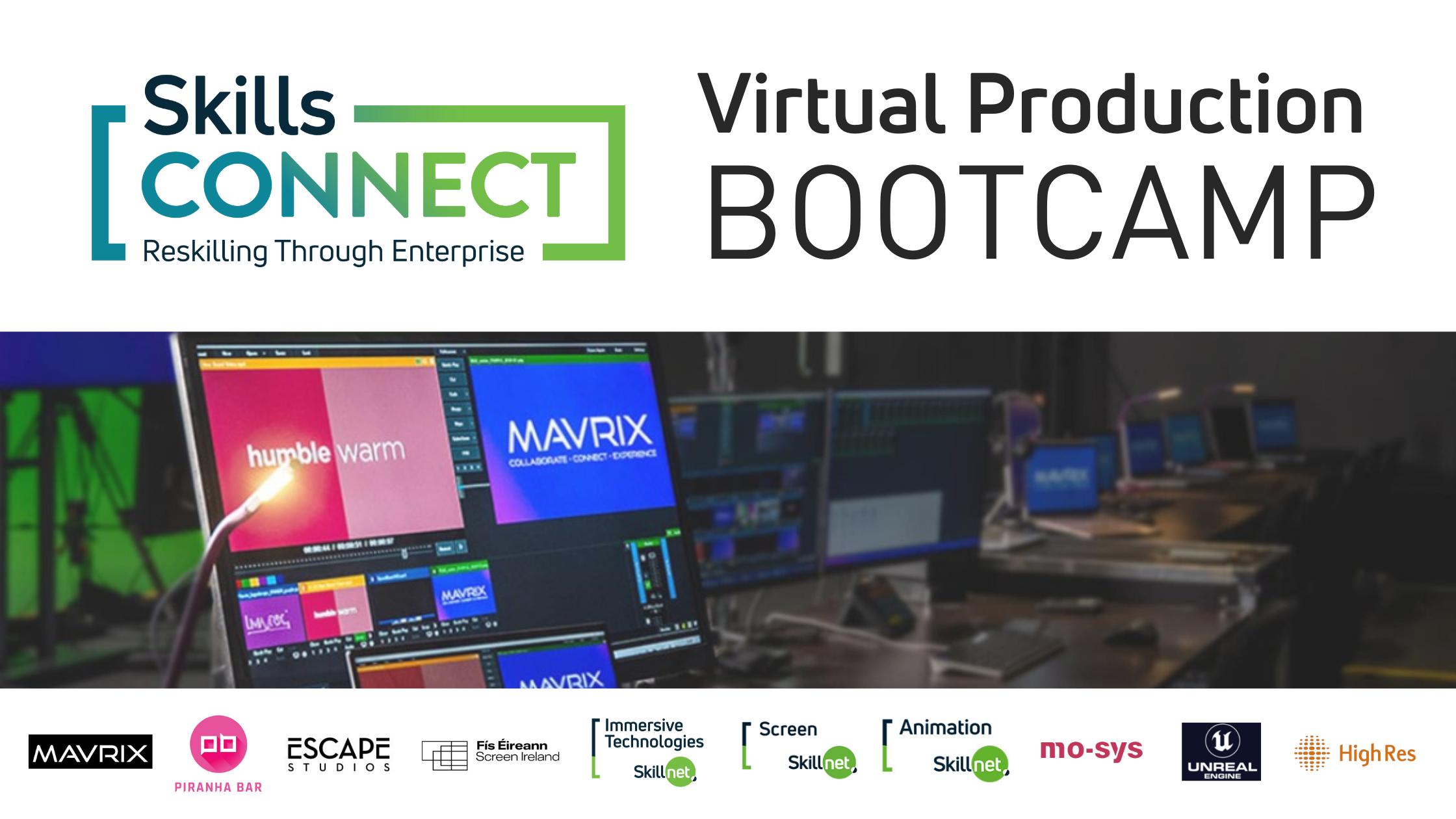 ---
19.04.22 Industry-Led Virtual Production Bootcamp
Dates: April 22nd – April 29th
Duration: 9.15am – 4.30pm (some training days may require an 8am start and a 6pm finish)
Lunch: 12.30 – 1.30 (will vary according to daily schedule)
Cost: FREE

This Industry Led Virtual Production Practical Bootcamp is a hands-on course for  professionals wanting to upskill or cross train in the new roles that virtual production offers – providing a chance to work with cutting-edge VP technology via a mix of technical training, practical exercises and a group project. The focus of this training is the technology as opposed to the creative aspects of Virtual Production and is focussed on Brain Bar and Tracking systems in a green screen environment as well as Motion Capture workflow integration.
The program will run for 8 days and consists of 2 learning streams.
1) Stream 1: Virtual Production // Green Screen
2) Stream 2: Motion Capture

Goal: To build confidence in the use of Virtual Production tools and to give a broad overview of virtual production using Unreal Engine, its applications, benefits and limitations. The trainee will develop a basic understanding of Virtual Production and how Unreal Engine makes this workflow possible within a green screen environment. The student will see how to start a project, implement assets from a package/other project, create apply and change materials and build lighting. This will enable students to have a foundation from which they can launch their first VP project. Many of the skills learned are transferable to an LED / Volume environment.
Stream #2 – Motion Capture Basic introduction. Suitable for animators who wish to incorporate Mo Cap into their workflow.
Course Content:
Training will take place across two studios. Mo Cap training will run parallel to Mo Sys system, calibration and Unreal Engine integration training with some common modules.
STREAM 1 & 2: Virtual Production, Mo Cap
Location: Studio 1

Introduction to Virtual Production (Trainer: High Res // Mavrix)
DAY 1 // Friday 22nd // Introduction To Virtual Production

a.m Mavrix Intro/Induction Day
p.m MASTERCLASS with High Res // Virtual Production

DAY 2 // Saturday 23rd // Reading & Research Day (Off Site)

STREAM 1: Virtual Production
Location: Remote

Introduction to Unreal Engine (Trainer: Escape Studios)
DAY 3 // Sunday 24th

STREAM 1: Virtual Production
Location: Studio 1

DAY 4,5,6 // Monday 25th – Wed 27th VP Workshops Cont'd. (Practical)
DAY 7 //Thursday 28th

a.m MASTERCLASS // Lighting for Greenscreen
p.m Shoot Day prep

DAY 8 // Friday 29th VP shoot day
WRAP

STREAM 2: Motion Capture using Maya and Unreal Engine
Location: Studio 2

Introduction to MoCap (Trainer: Piranha Bar)
DAY 2, 3 // Tuesday 26th – Wednesday 27th Working with Motion Capture (Practical)
DAY 4 //Thursday 28th

a.m MASTERCLASS // Lighting for Green Screen
WRAP

Training is delivered by Escape Studios tutors, using approved content and materials from Unreal Engine.
Fundamentals – What's covered…
How to Install Unreal Engine
The Epic Games Launcher
Documentation and training resources
Explore the Unreal Interface, windows and user environment
Viewports
Transformations, units and measurements in Unreal Engine
Navigation and Basic Usage of the editors
FBX Interoperability
Mesh triangle counts
Clean mesh construction
Collisions
LODs – Level of Detail
LightMap UVs
Static vs Skeletal Meshes
Naming Conventions
Unreal Engine PBR workflow
Textures guidelines
MipMapping
Texture Packing
Material Editor
Creation of basic Materials
Applying Materials to Meshes
Static vs RealTime Lighting
LightMass
Light Types
Controlling light
Properties
Light Mobility
Lightmaps
Trainer Profile: Christian Avigni

Christian is one of the Games Tutors at Escape Studios. He has been teaching new creative talent for the past 6 years, working worldwide at places including Alpha Channel and the University of Hertfordshire. Christian has a wealth of experience, creating game assets for the next generation consoles such as the racing game 'Formula Fusion', and writing numerous published books about Unreal Engine including; UDK Basics, Level Design and Documentation and UDK Games scenarios integration.
As part of the programme, Immersive Technologies Skillnet will aim to place participants of both Stream 1 and Stream 2 on an industry project (duration varying between 1 day and 1 week) before the end of the year either in a virtual production, animation or game development environment.

Freelancers from the film and tv and animation industry, who are between jobs, and want to learn Virtual Production tools and techniques.
Unemployed individuals or recent graduates (including those who are in receipt of unemployment) who have industry experience and wish to upskill in the new roles that virtual production offers.
Stream 1, Virtual Production trainees are not required to have previous Unreal Engine experience but some 3D or graphics knowledge would be advisable.
Stream 2, Motion Capture trainees are required to have a basic understanding of Maya and Unreal Engine,  and their own laptops with Maya (Free trial available for 30 days) and Unreal Engine installed.
Places on both streams are limited so it is important you qualify to avail of the subsidy.
Please Fill Out The Application Form Here.
Closing Date: Friday April 8th – 6pm
---
IMPORTANT: Places are open to Republic of Ireland based participants only. Companies, sole traders/freelancers or unemployed persons outside of the ROI do not qualify. 
Participants must adhere to all COVID guidelines. Measures that will be in place for the programme include:
Participants will be required to sign a 'declaration of health' form prior to being admitted to the premises on the first day.
Antigen tests may be administered before entering the studio.
You are asked to remain at home if you have symptoms including: runny nose, cough, shortness of breath, fatigue, headache, diarrhea, sore throat, flu-like aches and pains, loss of taste/smell or have a temperature.
Masks may be worn but are not mandatory as of the date of publishing this event.
Use hand sanitiser regularly.
While every effort will be made to mitigate virus exposure – it is the responsibility of applicants to adhere to COVID Guidelines and participation is at your own risk.
---
For further information, please email manager@immersivetechnologiesskillnet.ie
For any technical issues when applying on the website please contact admin@immersivetechnologiesskillnet.ie
---
Industry-Led Virtual Production Bootcamp


22nd April 2022 - 29th April 2022




9:15 am - 4:30 pm